Served by Calhoun's Catering
Every Wednesday & Friday
Instead of filling out a paper order form,
parents will place their hot lunch orders online using MunchaLunch.com! 
You can pay for your orders online by credit card (Visa/Mastercard) 
HOW TO REGISTER:
Click the "

Register Here

" button (as shown below). The system will guide you through

After adding your children, click the green "Order Lunch!" button to order

Next time, just click the "

Login Here

" button to access your account.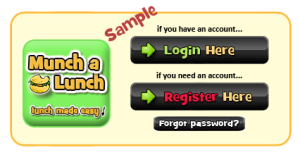 HOW TO ORDER:
After registration, click the green "Order Lunch" at the top of the page.

You can choose to order all dates, a month, a week or just a day. After all selection(s), please press "Go to Last Menu", then hit "Finished". This will prompt you to next page to finalize your order and process online payment.
You must FINALIZE your order or otherwise, it will not go through.
You can add a lunch anytime. There is a 2 day out policy. For example, you can order Wednesday lunch up to the time of 11:59 pm on Monday. Same timeline for cancelling your lunch if ordered in advance and your child won't be there.
We also need volunteers for 20 minutes on Wednesdays and Fridays to help troubleshoot whatever may arise.  Please sign up to volunteer here: Hot Lunch Volunteer Sign Up